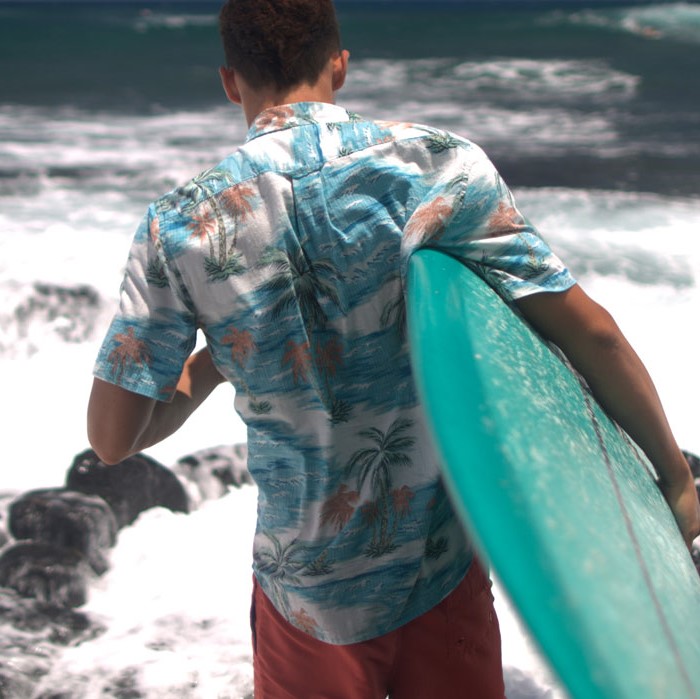 It may not be a winter wonderland in Hawaii Nei (our beloved Hawaii) come the holiday season, but we sure have the merry and bright spirit! If you're looking at your gift-giving list and considering cash for lack of a better idea, this guide is for you. Hawaii is home to a melting pot culture that inspires a number of unique and memorable gifts. Whether you're shopping for someone near and dear, or for friends and family on the mainland and beyond longing to visit paradise, here are some local gift ideas to send aloha their way.
Ukulele



An ukulele makes a sweet and inspiring gift for the music lover in your life. No worries if the recipient has no experience— the ukulele is known to be a fun and accommodating instrument—simpler than the guitar, with only four strings, comfortable to hold and carry. For a guitar player, the ukulele will feel familiar and sound novel. Get the next Jake Shimabukuro started!

If you have someone in mind to whom you want to introduce the ukulele, consider getting the beginner's set by AmiAmi, which has everything a student needs: an AmiAmi AS-100 soprano ukulele, a protective bag, a tuner, and an instruction book with accompanying CD. If you want a little more signature Hawaiian style, pick Kamaka's original Pineapple Ukulele. Samuel K. Kamaka, founder of Kamaka Hawaii, patented the pineapple ukulele in 1928. With its nice oval shape and mellow tone, the pineapple ukulele has become as beloved as the traditional figure-eight model around the world.

Schaper Hawaii Surfboard



We all know someone who's a total beach bum, itching for any chance to get in the water. Want to give that person the best reason for a beach trip this holiday? Give a surfboard and the opportunity to participate in Hawaii's most popular water sport. Schaper Hawaii operates out on the North Shore of Oahu, one of the world's most renowned surf spots. Their "Lunch Break" board has the performance capability for waves small and large, perfect for novices and professionals alike. Your surfboard recipient will soon be shredding the big kahuna!

Reyn Spooner 60th Anniversary Men's Classic Fit Button Front Shirt


Know a man who could use a pop of color in his wardrobe? Give him an aloha shirt suitable for casual and work environments. Reyn Spooner is celebrating their 60th Anniversary with a limited edition print, which comes in eight different colors for their classic fit button-up shirt. He'll be stylin on Aloha Friday!
Koa-Wood Sunglasses from Martin & MacArthur


With summer all year round in Hawaii, a good pair of sunglasses is an essential everyday accessory. Skip the Ray-Bans and go for Martin & MacArthur's distinctive koa-wood sunglasses. Koa trees are native to Hawaii, so you won't find this beautiful red wood anywhere else. Martin & MacArthur's sunglasses come in a variety of styles for men and women, all of which have an all-wood frame.
Maui Flowers Holiday Wreath

For those people you just don't know what to get, consider something simple and elegant in the holiday spirit. Maui Flowers Shop offers custom holiday wreaths —you can choose the classic Holly Wreath, or try a completely green Lemon Leaf wreath, or mix it up with some pepper berries and protea flowers for a splash of color. The choice is all yours.
Reyn Spooner 60th Anniversary Large Reusable Bag



You know at least a couple of people who are always forgetting to bring a shopping bag now that there's a plastic bag ban at grocery stores. Help them out and love the 'aina (that which feeds us) at the same time— give this reusable bag that comes in seven color variations of a pretty Hawaiian print. 10% of the profits will go toward the Hawaii Wildlife fund, so you'll not only give a great gift, you'll also contribute to the conservation of Hawaii's native wildlife.

Plumeria Pendant from Maui Divers Jewelry



Rose Gold Scroll Pendant. Photo Credit: Maui Divers Jewelry

Gold Scroll Pendant. Photo Credit: Maui Divers Jewelry

For a special lady in your life, there's always jewelry. The big question is where to find it, and then what kind to get. Here are your answers: Maui Divers Jewelry, which designs and handcrafts pieces with inspiration from Hawaiian heritage. Their plumeria scroll pendant comes in 14K yellow or rose gold and features a delicate pattern of plumeria flowers—a fine gift a lady of any age will appreciate.

Island Slipper Flip-Flops

If you're shopping for a woman who likes function with her fashion, you only have to go to Island Slipper. Slippers, as we in Hawaii call flip-flops, are everyday wear in our tropical weather, whether you're going to the beach or to shop at Ala Moana. Island Slipper has a great selection, from flats, to wedges, to platforms, designed for comfort and made in Hawaii since 1946.

Reyn Spooner 60th Anniversary Royal Skater Skirt



Have a young fashionista on your list? Give her this cute and chic skater skirt in an exclusive Hawaiian print. It will brighten any outfit, can be dressed up or down for the luau or a stroll in Waikiki, and, don't forget, has the charming twirl factor!

Adoboloco Hot Sauce


Know people with a serious thirst for spice? Give them everything they need with Adoboloco's hot sauce gift set. Choose three from the original Adoboloco (mild), Jalapeno (mild), Bangkok (medium), Pineapple (hot), Habanero (hot), and Hamajang (very hot). Be sure to pay attention to the spiciness levels! Adoboloco is made in Hawaii and sources ingredients from local farms.

Macadamia Nut Cookies from the Honolulu Cookie Company


The Honolulu Cookie Company's pineapple-shaped cookies are iconic and so 'ono (delicious). If you haven't already, you must try the macadamia nut cookies—these cookies crumble in your mouth and leave you wanting more. Give these cookies in a cute pineapple tin and save a box for yourself. Check out the rest of their 2016 Holiday Collection with other cookie quantities and assortments packaged in festive tins and boxes, some of which include seasonal flavors.

Coffee from the Honolulu Coffee Company


One of the must-have souvenirs from Hawaii is Kona coffee. The coffee is carefully farmed and harvested on the slopes of Mauna Loa, one of the volcanoes on the Big Island. The coffee beans are then processed and roasted to produce the smoothest cup of coffee. Give a bag of 100% Kona Coffee this holiday to the caffeine addicts in your life, in 12oz. or 7oz. bags and different grinds.
---