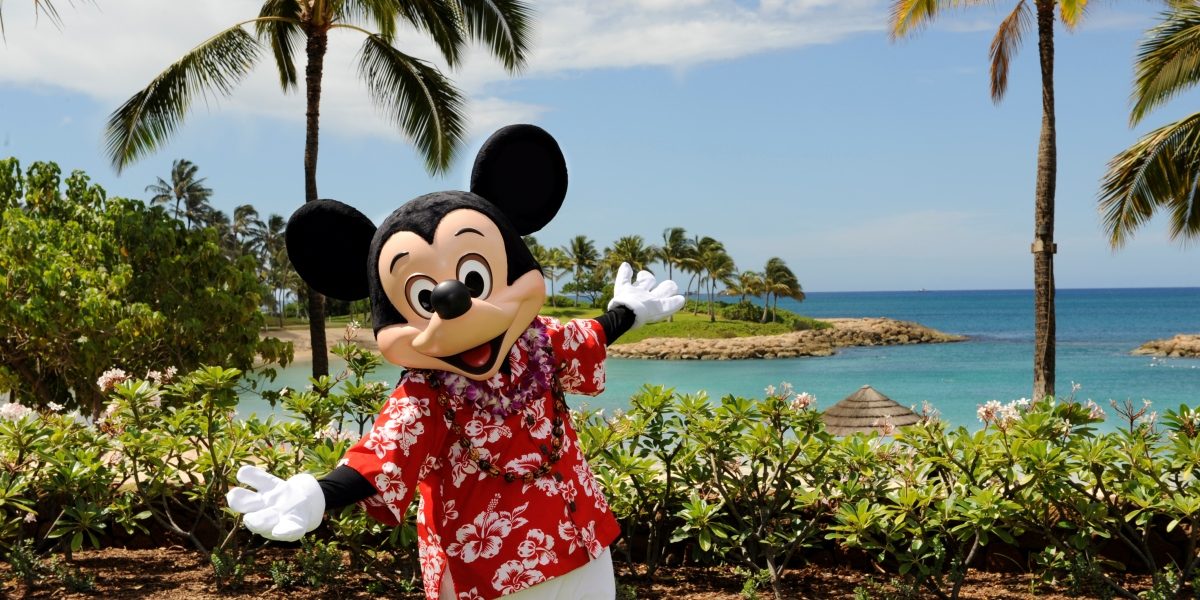 The tropical Pacific Islands of Oceania have long inspired Disney in a multitude of ways… from animated films, to rides and attractions, bars and restaurants, and even resorts! Here's a quick peek into eight (8) of Disney's Polynesian treasures:
1. WALT DISNEY'S ENCHANTED TIKI ROOM
Opened in 1963, Walt Disney's Enchanted Tiki Room was Disneyland's first fully air-conditioned building, and still serves as a cool retreat during CA's hot summer months. For the few folks who have yet to experience the Tiki, Tiki, Tiki, Tiki, Tiki Room, here's a quick breakdown: it's a Hawaiian-themed musical show hosted by four robotic macaws "José," "Michael," "Pierre," and "Fritz" joined by a chorus of other birds, plants, flowers and wall totems.
Located as you walk from Main Street into Adventureland, the attraction's entrance boasts the famous Tiki Juice Bar with some of the most refreshing treats in the park. Even when the line wraps around to the Aladdin Oasis, it's always worth the wait. The menu is simple: Pineapple Spear, Juice, Float or Whip. No matter what you choose, you really can't go wrong, but the Dole® Whip Soft Serve is a personal favorite.
WALT DISNEY WORLD: the Orlando park opened its very own version of the attraction in 1971. It re-opened in 2011 after fire damage and was reinstated as a slightly edited version of Disneyland's original show.
TOKYO DISNEYLAND: once an exact replica of the original attraction, the Tokyo show was closed and reopened in 2008 as The Enchanted Tiki Room: Stitch Presents Aloha e Komo Mai! featuring Stitch from Lilo & Stitch – this is the only version of the attraction's 3 locations without the classic theme song.
In 2013 Disney celebrated the Enchanted Tiki Room's 50th Anniversary with a select group of artists and Imagineers for an exclusive merchandise event. It was then that I had the privilege of meeting Dave Avanzino and Jeremy Fulton. Sound familiar? Probably because you've seen their magnificent works of art at the famous Disneyana art gallery on Main Street, USA. Do yourself a favor and check them out!
2. DISNEYLAND HOTEL: TRADER SAM'S ENCHANTED TIKI BAR
One of Anaheim's favorite watering holes, Trader Sam's Enchanted Tiki Bar at the Disneyland Hotel is not just any bar/restaurant, but rather its very own Disney attraction. Elaborately decorated from floor to ceiling, the room transforms into a tropical storm – triggered when a guest orders one of their signature cocktails, the lights darken, thunder rumbles and rainfall pours just before a volcano erupts!
As a frequent visitor, the outdoor seating is best and provides a much calmer and relaxing environment. Lined with tiki torches
and strings of softly-lit lanterns (and heat lamps during chilly evenings), guests can enjoy drinks and pupus (appetizers) while listening to local island-style musicians playing nightly from 6pm – 10pm. Be sure to catch some our friends and favorites: Tini Grey, Jerome Grey and Tui Letuli.


3. LILO AND STITCH
Released in 2002, Lilo & Stitch was the first feature length animated film to be set in Hawaii. One of Disney's greatest stories of family, love and the unbreakable bond between sisters, this film follows a little girl (Lilo) and her older sister (Nani) as they live life after the loss of their parents.
Hawaii-born cast members Jason Scott Lee and Tia Carrere assisted Disney writers with dialog and accents, while the camera crew visited traditional hula halau in order to better model the film's opening sequence.
The franchise continued with a direct-to-video sequel (Stitch! The Movie), tv series (Lilo & Stitch: The Series) in 2003, a 2nd direct-to-video sequel (Lilo & Stitch 2: Stitch Has a Glitch) in 2005, then final direct-to-video sequel (Leroy & Stitch) in 2006.


4. WALT DISNEY WORLD: POLYNESIAN VILLAGE RESORT
Disney's Polynesian Village Resort in Orlando, Florida is one of two original hotels that opened with the Magic Kingdom in 1971.
Lush with tropical flora and torch-lit white-sand beaches, the property boasts a few favorites that were once unique to Disneyland – thanks to the Pineapple Lanai guests can enjoy a Dole® Whip without having to entering the parks, and Trader Sam's Grog Grotto is a near twin to Anaheim's Enchanted Tiki Bar.
After enjoying the most amazing wedding day in 2015, my husband and I were fortunate enough to spend a 5-day honeymoon vacation at Walt Disney World. During that magical trip we visited the Polynesian Village Resort, and while we skipped the "Spirit of Aloha Dinner Show," we enjoyed wandering around the resort, and we relished in the kindness and warmth of Cast Members. (Hi Auntie Becky!)


5. WALT DISNEY WORLD: 'OHANA RESTAURANT
Another "must-visit" while at Walt Disney World's Polynesian Village Resort is the tropical-themed restaurant, 'Ohana. During our honeymoon trip, we were lucky enough to snag an open table (due to nearly-required reservations on a daily basis) and I enjoyed my favorite meal of our vacation! Sweet but tasty cocktails accompanied our prix fixe dinner of bread, salad, chicken, shrimp, steak, noodles, and the most decadent Bread Pudding à la mode with Banana-Caramel Sauce… yum!
6. AULANI, A DISNEY RESORT AND SPA
Aulani Disney Resort & Spa is a oceanside destination at the Ko Olina Resort in Kapolei, Oahu. While I'm certain I could write individual articles on the decor, background, restaurants, amenities and activities, I'll just share a few insights into what I've experienced so far.
I first visited the resort in May 2012 (with future husband in tow) but we did not stay as guests. Instead, we were day-visitors and enjoyed exploring the property at no cost. The main lobby (Maka'ala Grand Lobby) is filled with visual art, tropical floral scents, and the sounds of well-know musicians Keali'i Reichel and Mark Mancina. (Aulani: Music of the Maka'ala)
Since our trip came less than 1 year after Aulani opened we were lucky enough to experience the lazy river and waterpark play area before they implemented guest-only requirements.
While Aulani restaurants, spa and gift shops are open to the public, the pool area and all Aulani activities are exclusive to in-house hotel guests only.
ALL of the man-made lagoons are public beaches, but our favorite is Lagoon 4 at the end of Waipahe Place (MAP) – this lagoon has the most free parking, and it's a nice stroll over to Lagoon 1 to visit The Lava Shack for a delicious pineapple Dole® Whip!


7. LAVA
Lava (a Pixar Short release in 2015, shown before feature Inside Out) is a "musical love story that tells the tale of a volcano, Uku, who is looking for love among the ocean waters surrounding the Hawaiian islands. He's also a wonderful example of the power of modern animation technique, as the film depicts tropical flora and fauna with an incredible level of realism."
Director James Ford Murphy shared the original inspiration for Lava came 20+ years ago during his honeymoon in Hawaii – he was so taken with Hawaiian culture that he took up playing the ukulele and eventually wrote the song that would be the basis for Lava's narrative.
Hawaiian recording artists Kuana Torres Kahele joins the team as the voice of Uku, and Napua Greig as the voice of Lele. Kahele also serves as the film's narrator. READ MORE >>


8. MOANA
Set to release later this year, Disney's animated Moana is a "sweeping, CG-animated comedy-adventure about a spirited teenager on an impossible mission to fulfill her ancestors' quest." As Disney's first Polynesian princess, Moana Waialiki is joined by Maui, a character voiced by the incomparable Dwayne Johnson. "When I first got in this business, 15 years ago…I had a goal and the goal was to be in the Disney family," said Johnson. "Samoa is in my blood and to tell a story inspired by the South Pacific it truly is a great honor."
At Disney's D23 Convention in August 2015, the film's Musical Team was introduced for the first time: Musician Opetaia Foa'i, Composer Mark Mancina, and Songwriter Lin-Manuel Miranda. Foa'i and members of his group Te Vaka concluded the panel and presentation with a powerful performance that brought to life the adventurous spirit and music of Moana. READ MORE >>