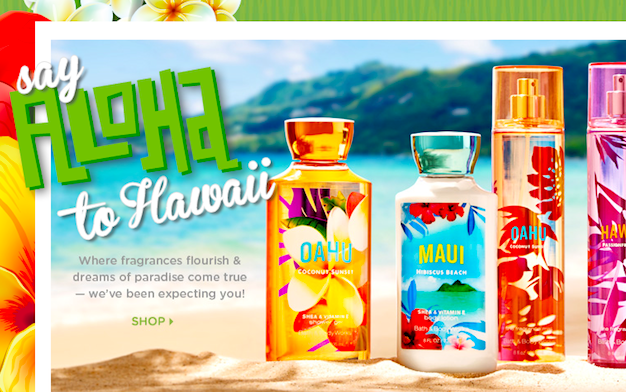 Bath and Body Works recently released a "Hawaii" collection of products, including five new hand soaps and eight new Hawaiian inspired candles. Here's a product list:
BODY
Oahu Coconut Sunset: Features notes of coconut blossom, pink tiger lily and sparkling bergamot.
Maui Hibiscus Beach: Features notes of refreshing starfruit, tropical hibiscus and sparkling mandarin.
Hawaii Passionfruit Kiss: Features notes of exotic passion fruit, kiwi and red pinea.
Each fragrance (above) can be purchased in body lotions, shower gels, scrubs and mists.
SOAPS
Honolulu Sun: Island coconut and Pacific palm.
Mango Hibiscus: Juicy mango and tropical hibiscus.
Wild Passion Flower: Passion flower and water hyacinth.
Island White Pineapple: White pineapple and sparkling melon.
Rainforest Sugarcane: Fresh sugarcane and luscious pink guava.
CANDLES
Hawaiian Hibiscus: Fragrant hibiscus mixed with notes of creamy coconut and jasmine.
Pineapple Palm Grass: Tropical pineapple mixed with notes of green foliage.
Island Waters: Water notes mixed with palm leaves and fresh cut bamboo.
Red Guava Lava: Fresh and fruity blend of guava and passion fruit.
Mango Dragon Fruit: Mango mixed with rare dragon fruit.
Black Sands: Ocean mist mixed with creamy cedarwood and exotic amber.
Rainforest Sugarcane: Fresh lime, raw sugarcane and rare vanilla orchid.
Lanikai Coconut: Sweet coconut milk, seawater and palm leaves.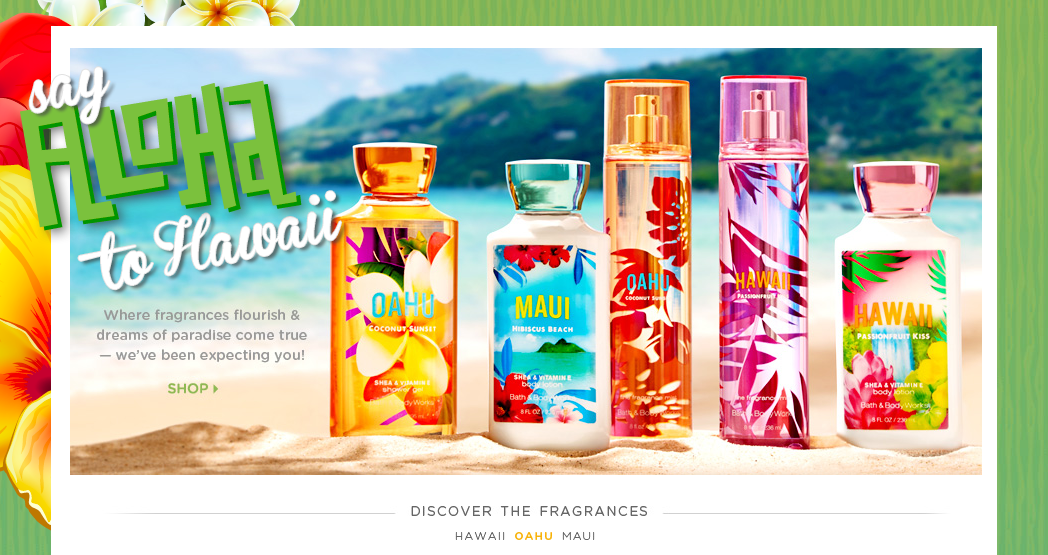 Purchase the new Bath & Body Works Hawaii collection online at bathandbodyworks.com