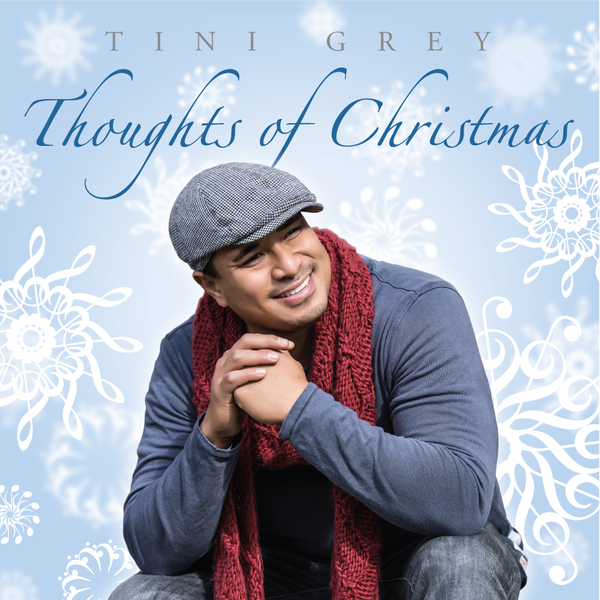 Singer-songwriter Tini Grey released his third solo album, Thoughts of Christmas, inspired by holiday favorites and Christmas songs of his youth, including Nat King Cole's "The Christmas Song," Elvis Presley's "Blue Christmas," and Anne Murray's "Silver Bells," Grey collaborated with family and friends to record some of his favorite holiday tunes.
Grey co-produced this album with Marc Solomon and Shawn Ishimoto, and features the multi-talented Ishimoto (a close friend and Hawaii favorite who is also now living in Southern California) on bass, electric guitar, drums, and background vocals. With Matt Clores on keyboards, Brian Mantz (Bobby Womack) on trumpet, and Vince Hizon on saxophone, Grey takes lead and background vocals and plays rhythm guitar and percussion.
While all of the songs have their own unique charm, a few of the standouts include: his rendition of an island-inspired classic, "Mele Kalikimaka" featuring his dad, the legendary Jerome Grey; "Blue Christmas," featuring his wife, former Miss America Angela Baraquio Grey; and my personal favorite, Track 4 / "Jingle Bells," with his four children as backup singers, Isaiah (age 9), Micah (age 7), Jonah (age 2) and Keilah (age 1).
A former member of the popular Polynesian R&B group Reign, Grey grew up in Hawai'i but moved to California in 2006. Grey and his wife formed Isle Entertainment, a full service Polynesian Entertainment Company. Grey also continued his music career performing regularly at a variety of venues, including the Disneyland Hotel and Downtown Disney. He released a solo EP (Better Place) in 2011. His first full-length solo album (Shades of Grey), a collection of 12 original songs, was released to critical acclaim in 2012.
CLICK HERE to purchase Thoughts of Christmas on iTunes
To learn more about Tini and his music, please visit his website: http://www.tinigrey.com/