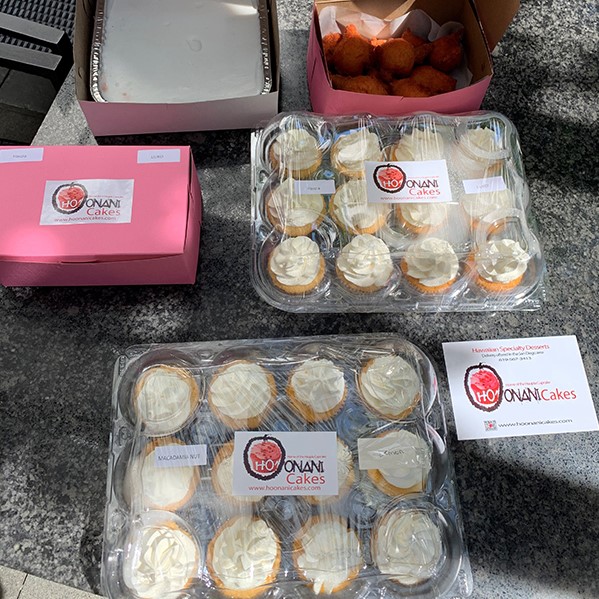 Through interviews and testimonials, we'll introduce small business owners and local kine brands whose products and services reflect the cultures of Oceania. Here we go!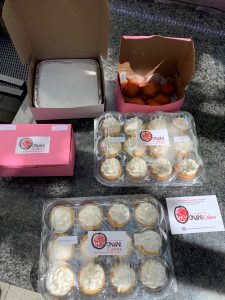 Thanks to the HAWAII TO DA MAX Facebook Group, I was introduced to Ho'onani Cakes, an online bakery based in San Diego that specializes in Hawaiian desserts.
I placed an order for some of my favorites, including Haupia Cupcakes, Lilikoi Cupcakes, Macadamia Nut Cupcakes, Li Hing Malasadas, Haupia Malasadas, Lilikoi Malasadas, and Chocolate Haupia Pie – everything was delicious!
Meet the Owner of Ho'onani Cakes, Andrea Bugawisan, as she shares a bit more about her small but mighty business:
Please share a little about yourself and your background.
I was born and raised in San Diego, but spent most of my summers in Ewa Beach with family. I grew up in learning the Hawaiian Culture through dancing hula with two halau, and I later became a member of Hui-O-Hawaii of San Diego.
How did Ho'onani Cakes start?
The idea of starting an online bakery came to me when I was on disability after having a kidney transplant in 2010. I needed something to occupy my time, so I decided to begin baking. I had an Uncle Jerry, who made Hawaiian cakes and pastries, who inspired me to try to replicate the light and flavorful cakes he used to make. After many tries and feeding a lot of people, I finally decided to open up Ho'onani Cakes in 2011.
Why focus on "Hawaiian Specialty Desserts" treats?
I missed the local baked goods and wanted to offer Polynesians something that they could find in Hawaii, but also on the mainland.
What was it that first drew you to baking? Can you share a story about that?
I've always loved to cook. I used to watch my Mom bake a lot and see how much people enjoyed what she made. She also enjoyed feeding people, as do I.
You mentioned some of the recipes were passed down to you by family members. Can you share a little more about that, too?
Cakes and cupcakes were inspired by my Uncle Jerry, who made the best cakes in San Diego. I remember going to his bakery and watching him bake. He made it look easy. Everything he made was onolicious. Unfortunately, when he passed so did the tradition of having his cakes at local kine weddings and birthdays. We all missed having his baked goods and I wanted to try bring back those memories through my baked goods.
How did you get to where you are today? Has it been a relatively smooth road? If not, what were some of your biggest struggles/obstacles?
It hasn't been easy trying to keep an online business going. You learn by trial and error. Some of the biggest obstacles are how to market what you are selling and to get it to the target groups that like tropical desserts.
What is it that drew you to San Diego?
I was born and raised in San Diego. My parents were born in Hawaii and we landed in San Diego due to my Father being in the Army. We planted our roots here in San Diego but have always tried to perpetuate the Hawaiian Culture. My Parents have been members of the Hawaiian Community for much of my life.
What do you want people to know about you?
I take pride in everything I make and don't let anything go out the door unless I am completely happy with it. I enjoy making others happy through cooking, especially baking.
What do you want people to know about your business?
We are extremely creative and love mixing flavors. Everything is fresh, made to order and never frozen.
Thank you, Andrea, for a delicious spread of some of my favorite flavors!
Contact info:
Andrea Bugawisan
(619) 567-3413 (call or text)
Pick-up and Mailing Address:
2158 Jackam Way
San Diego, CA 92139

https://www.hoonanicakes.com/

---