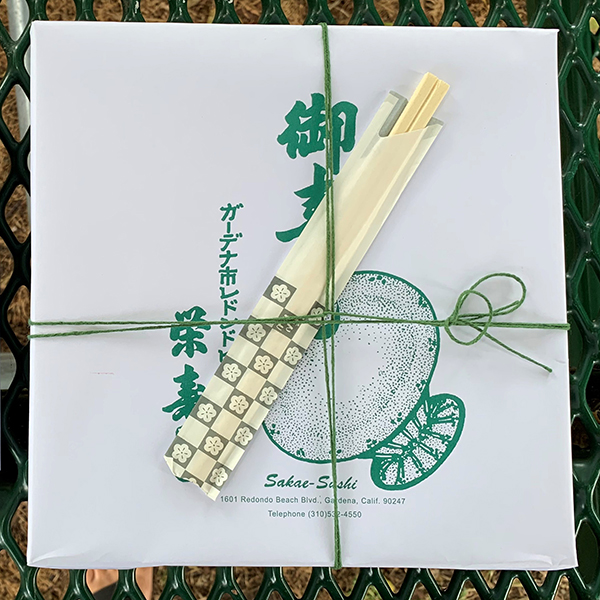 Family owned and operated since 1962, Sakae Sushi is a South Bay treasure! They're known by many locals for their hospitable service, simple menu, and authentic sushi rolls.
Futomaki (also referred to as maki sushi) is the classic sushi roll of Japan and the familiar style of sushi in Hawaii. This style is typically thicker in size, filled with a variety of vegetables, sometimes fish, and made with sushi rice – a smaller white grain rice seasoned with vinegar, and sometimes salt and sugar.
Inari sushi has been a favorite of mine since childhood! Made by simmering deep-fried tofu pockets (age) in sweet and savory dashi-based broth, then squeezed to remove the liquid, the tofu pockets are then stuffed with sushi rice. It's vegetarian and vegan-friendly!


Every order at Sakae Sushi is packaged with care and perfect for family gatherings, holidays and potluck events.
Located in a small business plaza on Redondo Beach Blvd. between Normandie and Western, they're about 1/2 mile from Bob's Hawaiian Style Restaurant.
During COVID they are open only for takeout with a new pick-up window at the back of the building in the courtyard. Orders can take up to 20 or 30 minutes to prepare fresh, so it's best to call ahead. It's also important to note that they are cash only and do not accept payments by credit card.
HOURS OF OPERATION
Tuesday-Sunday from 9:00am-4:00pm
Closed on Mondays
ADDRESS & PHONE
1601 W. Redondo Beach Blvd. Suite 112
Gardena, CA 90247
(310) 532-4550
MENU
Nori-Maki: shiitake mushroom, spinach, kampyo, oboro and egg, wrapped in seaweed
Inari: age
Ebi: cooked shrimp with sweet vinegar marinade
Saba: pickled Atlantic mackerel
California Roll: avocado, shrimp and roasted sesame seeds, wrapped in seaweed
Tamago-maki: shiitake mushroom, egg, spinach, kapmyo and oboro topped with sweet egg
Nori-Maki: $0.95 each
Inari: $0.95 each
Ebi: $0.95 each
Saba: $0.95 each
California Roll: $1.05 each
Tamago-maki: $1.05 each