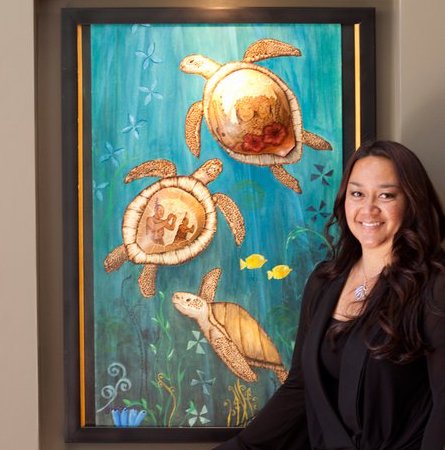 Trisha (Scanlan) Pereira is an artist who uses pyrography, carving and dyes to create intricate designs on gourds, frames and other wood pieces. She is an American-born Samoan, the youngest of five to Anthony and Line Scanlan, born in the High Desert of California (Ridgecrest). Trisha currently resides in Carson, CA with her husband of 18 years and her two beautiful children. Trisha is the Administrator for a film & television production company called
ROYCE
in Irvine, CA. "I have a very supportive employer who allows me to work from home two days a week not only to save gas, but also to work on my art," she said. "In these days of savvy technology, we can perform our work from our iPhones or laptops without physically being in the office."
How long have you been creating art and when did you get started?
"I was introduced to the art of pyrography (wood burning) in 1996 when brainstorming for centerpiece ideas for our family reunion. I approached my talented cousin, Patrick Taoipu of Traditional Trends, with the idea of making ipu (gourd) lanterns for centerpieces, but cutting designs out of the gourd rather than burning. He taught me how to clean and cut the ipus, and I observed him "burning'" his own projects.
Needless to say, the ipu lanterns were a hit at the reunion, and from that point on I started experimenting with the burner, making gifts for family and friends. For the past 5 years, my art has evolved to not only burning, but also carving, staining and painting…and my canvas has evolved from the ipu to also include wall pieces, frames, boxes and much more. My art has not only been a way for me to reconnect to my Pacific Island culture, but also share the beauty of Oceania with the world. In 2010, as a result of steady commissioned work and my love for the art, I incorporated my business,
Designs Pacific
. Although I still retain my full-time job, I am able to work commissioned pieces into my schedule at a pace that is manageable while remaining enjoyable."
Do you feel there is a connection between your art and your culture?
"There is definitely a connection between my art and my culture. Designs Pacific was specifically created with Oceania in mind, and our collective culture as Pacific Islanders. Not only do I enjoy incorporating my Samoan culture into my designs, but also those of Hawaii, Tonga, Fiji, Solomon Islands, Guam, Marshall Islands…etc. Through my art, I've learned so much about our island culture and am always anxious to expand that knowledge through every piece I create."
What do you enjoy most about creating this form of art?
"I really enjoy the challenge of a commissioned piece. Typically, I'll ask for some personal information about the recipient (heritage, interests, etc.) and challenge myself to come up with a custom design for that individual that incorporates those elements along with Pacific Island elements. My hopes are that the completed design will bring the recipient as much joy as I have in creating it; and through the design process, I enjoy researching and learning about the various island traditions, elements and culture."
Do you have a favorite piece?
"I don't know that I have a specific favorite piece, I believe I have favorite "pieces." Not so much that they're my favorite item, but more often it's the technique that I'm using. There are so many different techniques and possibilities with pyrography and even ipus themselves. I enjoy working with the inlay technique, where I inlay Hawaiian sea glass into an ipu design, although it's tedious, the sea glass is such a beautiful addition. I also enjoy adding depth to ipu pieces by carving background scenes or adding texture. I really enjoy mixing my mediums to create three-dimensional wall art. For example, I was commissioned to create a wall piece for Ohana Wellness Center in Carson, CA. I chose to depict "Ohana" through a family of honu. In this particular piece, I used a sheet of wood for my canvas in which I burned the honu bodies and painted the ocean background and then I cut ipus vertically to create a 3D honu shell in which I burned, carved and painted representations of family and culture. I would suffice it to say that they're all my favorites.
Heleloa.com was created to be a rich resource of Hawaiian and Pacific Islander businesses, events and people throughout Southern California. Do you have any special words for our readers?
"Continue to support and encourage the efforts of our Pacific Islander communities, the possibilities are endless and together, we're stronger. I am blessed, humbled and grateful for the opportunity to create art that I love that shares the beauty of our Oceania with the world and for the continued support of our community as a whole."
Visit the Designs Pacific website and connect with Trisha on Facebook!