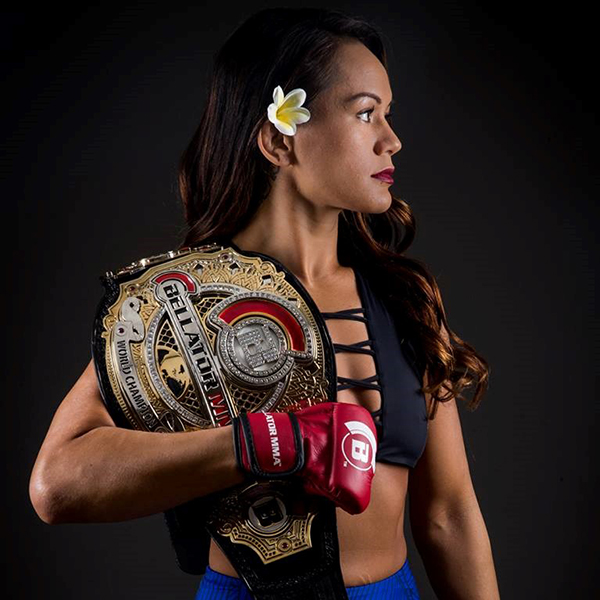 Initiated by Ilima-Lei Macfarlane, Bellator MMA World Flyweight Champion Fighter, "The Ilimanator" Scholarship provides Native American and Native Hawaiian adolescent female youth (ages 12-19) with an opportunity to access world-class indigenous education enrichment programs. 2019 Inaugural Scholarship Recipient will be chosen by Ilima-Lei "The Ilimanator" Lei-Macfarlane and InterTribal Youth Ilimanator Scholarship Selection Committee.
Eligibility requirements:
Female Youth ages 12-18; International Program applicants ages 16-20
Do not have support from Reservations, Rancherias or Agencies
May or may not be from a state or gov't recognized nation/tribe adopted and/or separated from their culture
Native Hawaiians, Tribal Descendants, or lineage or who are not on "roles" and do not receive recognition due to blood-quantum for whatever reason
Youth who live in urban areas, dis-connected cultural ways and/or funding support resources. This may include, but not limited to Urban Youth, Native Hawaiians, Xicano/a, South American Indigenous or Caribbean Youth.
Inaugural 2018 Scholarship Youth were chosen from the following Geographical Areas (subject to additions): Kingdom of Hawaii, California, Nevada and Panama.
In addition, scholarship candidates must submit the following:
InterTribal Youth / Native Like Water Registration form, AND
One letter of recommendation from teacher, parent, leader or relative, AND
Writing Sample or Oral Story Video Sample. Sample will not be judged for grammar or punctuation use, but praised for content and originality, AND
200 Word Essay on topic of your choice, OR
One Page, Original Poem or Lyrics to a Song, OR
A 1-2 Minute Video Selfie, demonstrating who you are, your interests, challenges
To receive a scholarship application, submit an inquiry here: nativelikewater.org/contact-us. For more information on the Ilima-Lei "The Ilimanator" Macfarlane Scholarship, please visit: nativelikewater.org/ilimanator-scholarship