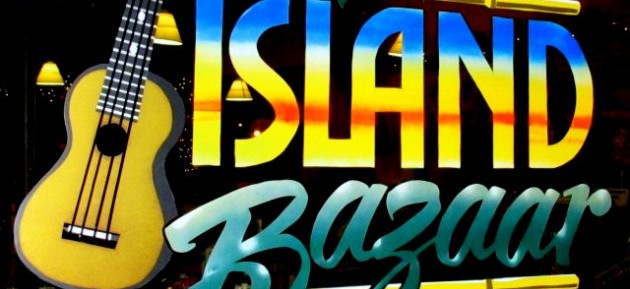 The Island Bazaar in Huntington Beach is truly an ukulele paradise. Opened for business in February 2002, the store has evolved from a simple consignment store into a music haven that celebrates all things ukulele.
As a long time Huntington Beach resident and shop owner, Shirley Orlando admits she just stumbled upon this niche market in the community. Orlando's first business venture was the Huntington Music Store. Unable to survive alongside multi-national retail conglomerates, the store closed in 2001 after 25 years in business. "I was brokenhearted," Orlando recalls. "I spent a year just singing the blues. I missed my music store and wished for the opportunity to start again."
Island Bazaar began as a tropical boutique selling furniture, trinkets, and a modest inventory of ukulele. Orlando noticed that the ukulele quickly grew to become the hottest ticket items in the store. Within three years, Island Bazaar ditched the consignment business model for one more focused.
With the store's growing popularity, Orlando started teaching ukulele classes in 2005. Today, the Island Bazaar is home to six different groups that meet at its Huntington Beach location on a weekly basis. (see our calendar for details)
Orlando is reminiscent as she recalls the seed that planted this deeply rooted passion. In 1972, she inherited a C.F Martin & Co. Concert Style Ukulele from her late grandmother. She and her uke are inseparable. Orlando describes playing it as "infectious."
She doesn't play her beloved Martin on stage, however. That performance is accompanied by a $1,700 ukulele that was gifted to Orlando by KoAloha, acknowledging that "the Island Bazaar is the west coast mecca for all things ukulele."
Visit the Island Bazaar for cases, tuners, stands, straps, amplifiers, metronomes, CDs & DVDs, nearly every known publication of ukulele song books, and (of course) some of the finest instruments crafted by world premier ukulele builders such as Kamaka, KoAloha, Kanile'a, Ohana, Lanikai, Kala, Kiwaya, and more.
Island Bazaar
16582 Gothard Street
Huntington Beach, CA 92647
(714) 843-9350
www.facebook.com/ukuleleparadise
Click HERE for upcoming ukulele classes