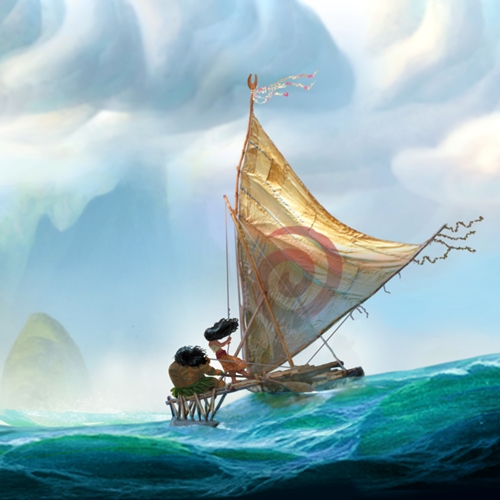 D23 is the official fan club for The Walt Disney Company and is known mainly for its biennial event, the D23 Expo. Held this weekend in Anaheim, CA, D23 gathered thousands of fans to experience "all the magic and excitement of the past, present, and future."
Friday's schedule featured a panel that revealed an exclusive look into Disney's new animated film for 2016, Moana.
John Lasseter (Chief Creative Officer of Pixar, Walt Disney Animation Studios, and DisneyToon Studios AND Principal Creative Advisor for Walt Disney Imagineering) opened up the panel by sharing his thoughts. "We were not only deeply inspired by the beautiful people, the rich music, and engaging stories of the South Pacific," said Lasseter, "but we were also deeply changed by them."
Directors John Musker and Ron Clements (known for their work on The Little Mermaid, Aladdin, The Princess and the Frog), and producer Osnat Shurer joined the stage to introduced D23 attendees to Moana Waialiki, Disney's first Polynesian princess.
One of the lead characters, Maui, is voiced by the incomparable Dwayne Johnson who joined the panel with phone in-hand as he recorded his onstage introduction to an unexpecting crowd. "When I first got in this business, 15 years ago…I had a goal and the goal was to be in the Disney family," said Johnson. "Samoa is in my blood and to tell a story inspired by the South Pacific it truly is a great honor."
The film's Musical Team was also introduced for the very first time: Musician Opetaia Foa'i, Composer Mark Mancina, and Songwriter Lin-Manuel Miranda. Foa'i and members of his group Te Vaka concluded the panel and presentation with a powerful performance that brought to life the adventurous spirit and music of Moana.



Disney's press release (below) includes the official synopsis:
BURBANK, Calif. (Oct. 20, 2014) Walt Disney Animation Studios revealed plans today for "Moana," a sweeping, CG-animated comedy-adventure about a spirited teenager on an impossible mission to fulfill her ancestors' quest. In theaters in late 2016, the film is directed by the renowned filmmaking team of Ron Clements and John Musker ("The Little Mermaid," "The Princess and the Frog," "Aladdin").

"John and I have partnered on so many films—from 'The Little Mermaid' to 'Aladdin' to 'The Princess and the Frog,'" said Clements. "Creating 'Moana' is one of the great thrills of our career. It's a big adventure set in this beautiful world of Oceania."

In the ancient South Pacific world of Oceania, Moana, a born navigator, sets sail in search of a fabled island. During her incredible journey, she teams up with her hero, the legendary demi-god Maui, to traverse the open ocean on an action-packed voyage, encountering enormous sea creatures, breathtaking underworlds and ancient folklore.

"Moana is indomitable, passionate and a dreamer with a unique connection to the ocean itself," Musker said. "She's the kind of character we all root for, and we can't wait to introduce her to audiences."