Na Wehi: Fashion Show is a fundraising event to benefit the Sandwich Islands Network (SIN) – an internet radio station that provides a 24/7 streaming platform for island music and entertainment.
Join emcees Anamativa Grey Niumata and Eddie Kaulukukui with designers Show Me Your Pukana, Tatau, Hinano, SoPa, Island Edge Designs, and Missing Polynesia as their works of art walk the runway to the live musical performances of Manny Lagod, Angelline, Pumana and Mindless Groove.
If that lineup isn't enough to make your mouth water, then this surely will – Primo Beer is sponsoring the event! Oh yeah! Hawai'i's Original Beer will be the exclusive brew for the event.
In addition, carefully selected boutique vendors will be onsite providing guests with the opportunity to purchase their island-inspired goods.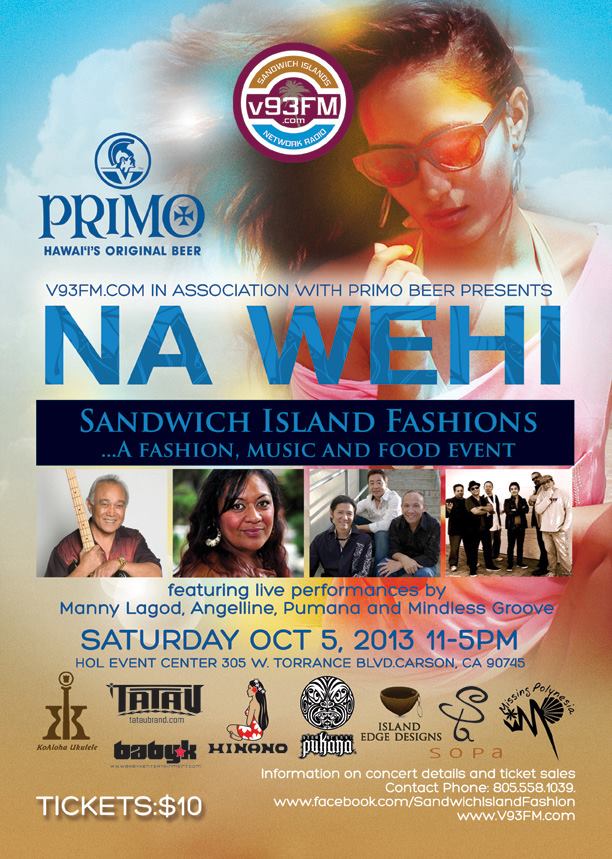 Ready to purchase your tickets? Here are the details:
Date: October 5, 2013
Time: 11-5pm
Place: Hula Halau 'O Lilinoe Event Center
Address: 305 W. Torrance Blvd., Carson CA 90745
Contact: (805) 558-1039
Tickets: http://nawehi-es2.eventbrite.com


The Sandwich Islands Network is actively pursuing 501(c)(3) tax-exempt status, but until that time they are reaching out to the community for help. Please join in supporting the SIN Krew: Kamaka Brown, Dan "Silver Fox" Lagronio, Clinton Lee, Butch Alcantra and Melissa Naholopapa in their efforts to provide music and info with an island attitude and shameless display of Hawaiian pidgin english. Mahalo!