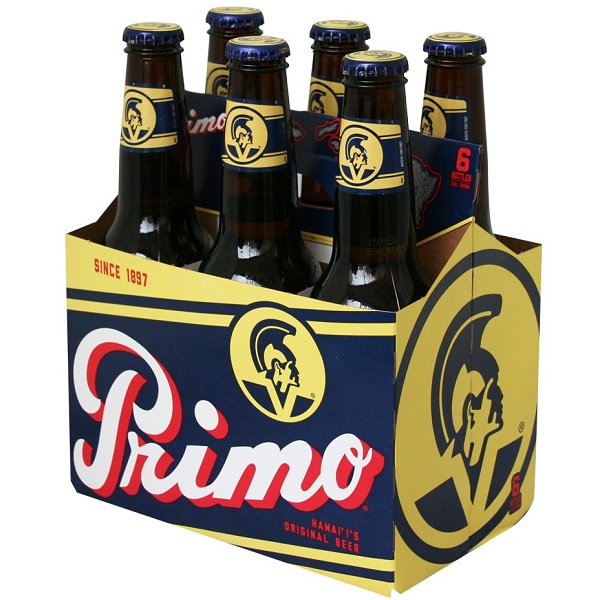 2019 UPDATE: At this time Primo is only available in Hawaii. The Primo brand is a "regional beer" and is only going to be available in Hawaii for the foreseeable future.
Unfortunately, due to the rules and regulations given by the State Alcoholic and Beverage Committee, beer products cannot be ordered directly through Pabst and beer products cannot be shipped. In order to obtain beer product not located in your state, you would need to travel to Hawaii.
At this time, Pabst does not plan on expanding the Primo brand any further.

---

2011 ORIGINAL POST: Absent from the beer market since 1997, Primo returned to the mainland in 2009 thanks to owner, the Pabst Brewing Company. The mainland launch is accompanied with a commitment to support the environment and culture of Hawai'i, with a portion of all Primo sales going towards the Outrigger Duke Kahanamoku Foundation and the Hawaiian chapter of the Surfrider Foundation.
Though, there have been some changes to its flavor – it was updated to be "more in line with today's beer consumer." With the help of big wave champions, Shane Dorian and Keoni Watson, and a handful of Hawaiian watermen and kama'aina, brewmasters Phil Markowski and Bob Newman derived Primo's unique recipe – 95% malt, 5% raw Hawaiian cane sugar, and two distinct varieties of noble hops.
About Primo Brewing And Malting Co.
One of the only modern brews with a legitimate Hawaiian history, Primo was founded in 1897 as Honolulu Brewing & Malting Co. Now, the Primo Brewing & Malting Co. is a division of Pabst Brewing Co. of Woodridge, Illinois. For more information about Primo beer, visit www.primobeer.com.
.
.
.
.