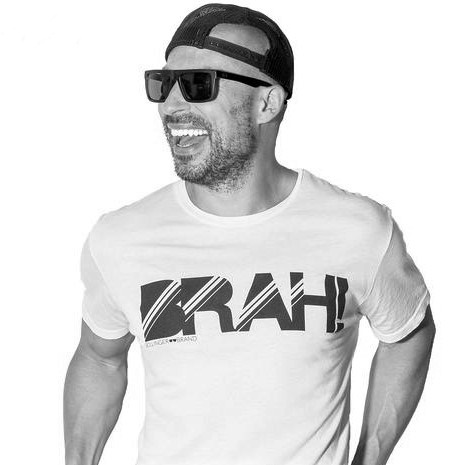 Bret Bollinger is an entertainment industry renaissance man. Born and raised in beautiful Kailua-Kona, Hawaii, he is one-third of the reggae-dub-ska trio
Pepper
, vocalist, bassist, songwriter, producer, solo music artist, and creator of his own apparel company
Bollinger Brand
.
Bret is currently touring North America with Pepper bandmates Kaleo Wassman and Yesod Williams. Mahalo for taking time to speak with me!
How long have you lived in Southern California?
I've lived part time in California for 10 years.
What do you enjoy the most about living here?
It's that LA is the pinnacle of the entertainment business that I've been a part of since I was 17 years old, so it's nice to be close to the industry as is grows and changes.
What do you miss most about living in Hawaii?
I only miss home for half the year (thank god!) but my family is always what I miss most while on tour.
#pepperohana
This is a huge year for you… Pepper recently released Ohana, their 7th full length album, and the three of you will have been together as a band for 20 years! Congratulations! How do you plan to celebrate?
I think a nice looooong surf trip with our band and families sounds just about perfect!
What can fans expect from your upcoming shows at The Observatory in Santa Ana this week?
Well if they come both nights they can expect 2 very UNIQUE & LIVE shows from us.
What is your favorite and least favorite part of touring?
Seeing all of my favorite spots and cultures around the different parts of the world, but [least favorite is] being away from my ohana.
#bretbollinger
What can fans expect to hear with your solo music project?
Lots of music that I'm passionate about creating, some similar in sound to Pepper but most very different.
Any upcoming solo gigs?
Yes, a couple tours coming this year with some other showcase dates as well international in 2017.
As an artist & musician, what are some of the challenges and obstacles you face?
Staying true to your vision with all the marketing noise and competition.
Can you tell us more about your record label?
LAW Records was established by our drummers father in the 80's and passed down to us and we are constantly releasing new music from artists we find creative and inspiring like Katastro, Darenots, Iration, Ballyhoo!, Passafire, Kash'd Out, etc.
#bollingerbrand
Congrats, too, on the success of your own apparel line! Anything exciting planned for 2017?
Tons! We have expanded to wholesale and are now in exclusive boutiques in multiple states in the US and featured online in major retailers like the world famous "LuLu's Fashion Lounge".
What is your current favorite design for Bollinger Brand and why?
Right now it's a design inspired by a song I wrote called "GIVE IT UP" – really fun design!
What is something about you most people would be surprised to learn?
That I don't like to perform as a hobby only as a profession.
How do you stay connected to Hawaiian culture?
I am very active in my community in Hawaii by way of time spent with benefit shows, speaking to students from my old high school sharing my knowledge of the world abroad and also by being an ambassador of Hawaii in spreading it's genuine warmth and creativity I've been exposed to in being born and raised Hawaiian culture.
#meetthelocals
Favorite place to dine in SoCal?
Right now it's a place called Crossroads
…and what menu item do you recommend?
The Vegan Milanesa
Favorite place to play in SoCal?
A tiny spot called Bar Chloe
Favorite Pacific island to visit?
The Big Island of Hawaii
Favorite island meal?
Umeke's Sweetie Poke
Favorite island snack?
Green Mango and Shoyu
---
---