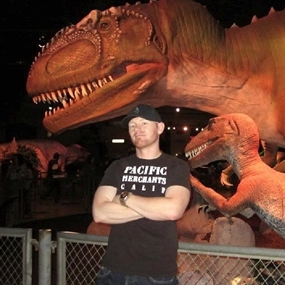 Jeremy Fulton is a true Anaheim local – born, raised and currently residing just a few miles from Disneyland. Read along as we talk story about his life as a Disney Imagineer; the next time you visit the Disney Gallery on Main Street, U.S.A. in Disneyland Park, you'll know a bit more about the man behind the art.
How did you get your start in the art industry?
I've always been very artistic, ever since I was little. And of course I was really into dinosaurs! So my parents would get me dinosaur books and I would try to draw them as best I could. So the walls in my house were always covered in tons of pinned-up dinosaur drawings since I was about two years old. Then when I was eight, I took a painting class a few days a week at a local art store. I remember it was weird being the only kid in a class full of adults but I sold the paintings to my family members and made a little money to buy more dinosaur books.
What is your favorite medium for creating art?
The painting class ended up making me disinterested in painting because I couldn't stand the smell of paint and turpentine. Also I didn't like washing my brushes all the time. So I mainly drew with pencils and pens. In college, I was attracted to the ink linework in comic books so I started playing with fine point pens, which can be difficult because you only get one chance to make that line – no erasers here! Today I create typographic posters using mainly pen and ink.
Typography is a skillful craft, as selecting and manipulating fonts is an art in itself. What do you think is most difficult about your typographic works?
Yes you're absolutely right, good typography definitely takes skill. While I believe the skill can be learned to a degree, it also takes talent, patience and a very steady hand. So I would say the most difficult thing is the time commitment involved in my hand-done pieces. The most I've spent finishing a piece was 37 hours of inking the individual letterforms with numerous pens. And that doesn't include the time spent coming up with the concept, sketching ideas, refining those concepts and creating the finished line art to ink.
How important is handwriting to you? What do you think penmanship says about a person?
Actually I think penmanship is still important even today. While creating graphics for the Disney Parks, I'll sometimes need to evoke handwriting from certain time periods or geographic locations. This takes a lot of research and practice to get it right. Plus when you meet someone with nice handwriting, it's something special! I mean, not many people write by hand anymore – when was the last time someone wrote you a real hand-written letter?
How did you end up working with Disney?
Both my parents worked for Disneyland since I was born, so I always wanted to work there. When I was seventeen I was hired by Disneyland to work on Pirates of the Caribbean and the Haunted Mansion and had the best times working there. Years later I took an environmental graphics class at Art Center College and the instructor turned out to be the graphic design principal at the Walt Disney Imagineering office located at Disneyland. He saw my potential and recommended me for a position. Since I was already working at Disneyland, I simply transferred over to Imagineering. It was my dream job, and I never left!
What is a project you accomplished that you are most proud of?
I would definitely say it was Rolly Crump's dedication window and Palm Parlor sign. Rolly is an Imagineering hero of mine and I will always cherish meeting him at the dedication.
What did you create for the Tiki Room Anniversary Event?
For the Tiki Room, I designed a typographic poster in the style of the original graphics that were outside the attraction in the 1960s. In this poster I've included many small touches to give the flavor of the Tiki Room without depicting any specific scene.
From where did you draw inspiration for this poster?
My inspiration really comes from the attraction itself. The Tiki Room is so lush and full of exotic textures that you don't see anywhere else in Disneyland. Also, the old signage from the attraction's early years are a big inspiration. That was very cool stuff – dimensional shields with twine lashing, carved tikis and hand-painted lettering.
What is your favorite part of the Enchanted Tiki Room attraction?
My favorite part is the rain effect outside the windows. When I first saw that as a kid I thought it was really raining! Then I went outside and was completely bewildered. I was that kid always peeking back into the windows to try to see how it worked.
Have you created any other "island-inspired art?"
Aside from designing various graphics for the Tiki Room, this is my first island-inspired art piece. I really hope everyone enjoys it.
Have you visited any of the Pacific Islands?
Yes, I visited the north shore of Oahu on a family vacation when I was fourteen. The landscape was so beautiful, totally unlike anything here in Southern California. Also I remember it rained a lot, every day in the afternoon. After that trip the rain effect made total sense.
Where can we view your works of art?
My art is displayed in the Disney Gallery on Main Street, U.S.A. in Disneyland Park. I've also designed many graphics guests can see throughout Disneyland such as the treasure map in Pirates of the Caribbean and Madame Leota's spell book in the Haunted Mansion. Of special note: I designed Imagineer Rolly Crump's dedication window and Palm Parlor sign on Main Street, U.S.A. This was totally amazing for me because Rolly worked on the original Tiki Room, among other classic Disneyland attractions. He actually sculpted the tiki gods in the enchanted garden! Getting to meet him was really a dream come true. If you look closely at his dedication window you'll see references to the Tiki Room, Haunted Mansion and "it's a small world." Keep looking — you never know what else you'll see. It's all in the details!